sourdough bread: a tragic lovestory
oh sweet victory. oh ye bitter ashes of defeat. both in the same loaf.
they say you never forget your first, and i do believe it's true. especially when the first we are speaking of is your first sourdough starter. especially when this first ends with an emergency visit from the plumber. especially when this emergency visit ends in a graphic excision of a tennis ball sized lump of a hardened rubber cement type substance. all of this under the rolling, accusing, i told you so, eyes of your partner.
and the second? well, the second can be no less memorable. especially when it sends you hunting around the house for that rotten garbage, lifting up the cat's tail to make sure there's nothing lurking down there, looking suspiciously at your own feet for days on end. little mr. second manically laughing on the kitchen counter. little mr. second bubbling down the toilet (much more accustomed to handling tennis balls of rubber cement type substances, no?). little mr. second wedging himself deep in the u pipe. little mr. second getting speared by the plumber's powerful suction device known as the "snake". more accusational eye rolling.
so it is no wonder that it took a while for me to get up my courage up to try again, to try for mr. third. but i'm a stubborn old ox and secretive to boot. quietly, in the dead of the night whilst my man slept i crept into the kitchen and began the dreaded alchemy all over again. hidden deep behind the stale rye vita crackers mr. third bubbled and festered. i tended to him, my secret passion for three weeks, creeping out of bed every night to mix and stir and sniff and hope. then back into bed to dream. three weeks passed before i deemed him, mr. third, mr. lucky, ready for the grand experiment.
and so i proofed. i proofed overnight. and i sponged. i sponged for six hours. and then i kneaded. actually my bread machine kneaded. then i waited while it rose. it rose for five hours. then i shaped and it rose again, my heart all atremble. then i slept and when i awoke there he was, mr. third time, mr. lucky, mr. sourdough. he was beautiful, big and puffy, shaped just like a baked alaska. my heart was light with giddy joy as i preheated the oven with a little pan of water for that magic crust inducing
steam
. i was going to do it right, by golly.
and imagine my glee when i pulled
this
out of the oven. oh my god, i might have shed a little tear. dancing and cavorting about like a drunken stevie nicks on horse tranquilizers impersonator as i snapped picture after picture of mr. lucky. so beautiful. my firstborn.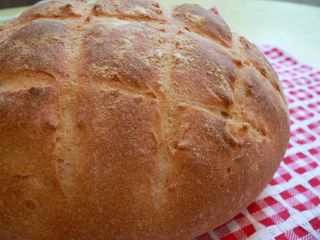 determined to do it right, i went away. i left lucky alone to cool and prepare himself for the knife. i walked around the block again and again and again as i waited for him to ready himself, a trail of saliva marking my rounds. and oh how he yielded to my serrated knife, showing me a textured airy interior cloaked by a dark, crispy outer shell. oh joy.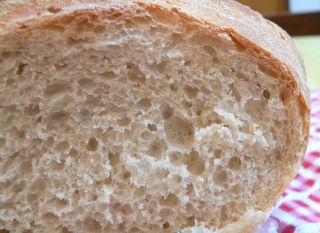 and then the ashes. mr. lucky was so beautiful. so well behaved. so goddamn perfect. but he was dull. bland. tasteless. not a bit of sourness. very little flavor. no character at all. just another pretty boy, square jawed, perfect teeth, full head of hair. dumb as a stick.
ready to try your luck? maybe these links will help you. they didn't me.
baking 911 sourdough information
sourdough baking basics
how to make authentic sf sourdough bread