a trio of middle eastern dips: muhammara, baba ganoush , spinach pate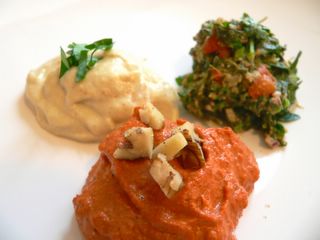 smoky babaganoush, spinach pate and muhammara


since dining at
marouch
in la last month i've been craving middle eastern fare. i don't often make these types of dips and pates, being both ingredient and labor intensive, but this craving coupled with a call to make appetizers for an upcoming dinner party moved me beyond my usual complacent self. all three of these recipes are from paula wolfert's
cooking of the eastern mediterranean
, with some minor changes.
the baba ganoush turned out very well with a nice smoky flavor. i used small italian eggplants and imparted that yummy smokiness by overcooking the eggplants a little. a happy accident. my only complaint is that it turned out a little runnier than i usually like but it could have been remedied by adding a little less water or draining the eggplant a little more thoroughly. i also added a little more lemon juice than called for since i like a little tart bite on my baba.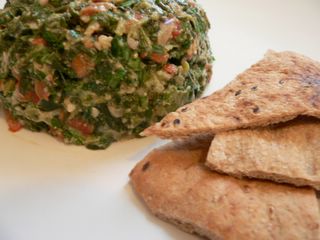 the spinach pate had a wonderful texture and flavor. the freshly ground corriander and spinach worked together nicely. but then again i could pull spinach right up out of the ground and love it. this pate would also make a great filling for little spanitokopita, miniature calzones or stuffed mushrooms.
and the muhammara. the only other time i've had this dish was at marouch and their version was a little different. first off, it was a much brighter, more vivid shade of red. secondly, the dip was not pureed completely with bits of finely chopped walnuts and breadcrumbs lending a bit more of a mouthfeel. i used a slightly more pomegranete molasses than called for to get a more assertively sweet - tart bite to the dish. i also increased the lemon juice slightly.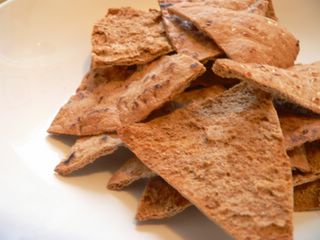 following are recipes for all three dishes plus guidelines for making pita chips. i hate stale, floppy pita bread as a dipper.
baba ghanoush
1 large eggplant (about 1 1/2 lbs.)
4 Tablespoons tahini
2 cloves garlic
3 T. lemon juice
3 - 4 Tablespoons water
1/2 salt
1 T. olive oil
pierce eggplant and broil until skin is charred and is collapsing. scoop out flesh and place in a collander allowing juices to drain. in a food processor mix the tahini, garlic, and lemon juice until thickened. thin with a bit of water, if necessary. add eggplant, salt and olive oil and blend until smooth. serve garnished with olive oil, parsley and tomatoes. you can also use the smaller japanese or italian eggplant. according to ms. wolfert, you can obtain a smoky flavor while cooking indoors by wrapping the eggplant in two layers of aluminum foil and cooking over a gas burner.
muhamarra
2 1/2 lbs. red bell peppers
1 - 2 small hot chillis, red pepper paste, hungarian hot paprika or cayenne
1 1/2 cups walnuts
1/2 c. wheat crackers, crumbled
1 T. lemon juice
2 T. or more pomegranate molasses
1/2 teaspoon ground cumin
3/4 teaspoon salt
1/2 t. sugar (optional)
2 T. olive oil
roast the peppers either over a gas burner or in a broiler until black and blistered. place in paper bag for 10 minutes or until charred skin is easily removed. slip off skins, remove seeds, stems and membranes. let drain. in a food processor grind walnuts, crackers, lemon juice, pomegranate molasses, cumin, salt and sugar. add red peppers and blend until smooth. add olive oil. add hot pepper to taste. if you prefer a more textured dip puree all ingredients except 3/4 of the walnuts. finely chop and mix in after the other ingredients are blended. garnish with pine nuts and chopped parsley.
spinach pate
1 lb. spinach, washed and drained (may substitute frozen chopped spinach)
1-2 cloves garlic
1/3 cup walnuts
1/2 t. salt
1/2 t. corriander seeds, ground
pinch cayenne
1/4 c. chopped cilantro
2-3 T. chopped parsley
4 T. grated onion, rinsed and dried
1-2 T. mild vinegar (rice wine) or lemon juice
black pepper
cook or defrost spinach and squeeze to remove liquid, reserving 2-3 Tablespoons for later use. grind the wanuts, garlic, corriander, salt and cayenne until pasty using a coffee mill, food processor or mortar and pestle. add in 2 T. spinach cooking water. in a large bowl combine spinach, parsley, cilantro, grated onion and walnut paste, adding the vinegar to taste. if you like you may add 1/4 c. chopped roasted red pepper. chill for at least 24 hours for best flavor. garnish with pomegranate seeds.
pita chips
this are a great way to use up stale pita bread. split whole wheat or white flour pita breads into two halves. cut each circle into 12-16 triangles. place in a hot oven or toaster oven (450) on a cookie sheet and remove when just browning. if toasted long enough they will crisp up once cooled. you can also give the pitas bits a light misting of pan spray and sprinkle with seasonings before cooking, but if so, watch the bread carefully as sometimes the herbs may burn.