mashed potato head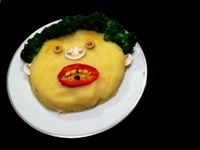 huh? who, me???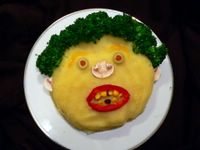 this was supposed to look like a monster, instead it looks kinda like my mother, caught with a panic-stricken look of surprise on her face. think deer frozen in the headlights. poor mom. no, it doesn't really look like her, at least not since she stopped getting those perms.


this is a mashed potato head, the idea taken from clare crespo's book,

the secret life of food

, which i highly recommend if you have children or are just perennially immature, like me. there are projects like the shirt and pants cake, the blue jello gummy fish aquarium, flower pot cake and more. think white trash on acid. these recipes aren't really recipes, mostly ideas for getting creative and freaky with food.

for the mashed potatoes i use butter golds. they are the only potatoes i use these-a-days. i don't know how they did it, but these spuds cooks up super creamy and buttery tasting before adding a drop of anything. in fact, when i mash them i use only salt pepper and potato cooking water and boy are they

creamy

. the only place i've found them yet is at cosco. for more information on the butter gold, go here:

http://www.mtnking.com/butter_golds.html (no, i don't work for them).


so anyway, the hair is composed of steamed broccoli florets, the eyes, a halved pimento stuffed olive (though you could use black olives-kids generally prefer them), the lips are red pepper strips, ear and nose are sliced mushrooms, for the eyebrows i used yellow pepper strips, though green scallions sliced lengthwise is what was originally called for in the book, if i recall correctly. the teeth are roasted corn kernels - i liked the blackened touch.

to be perfectly honest this dish freaks me out a little. as a vegetarian there is something doubly jarring about digging your fork into something when it is looking back at you. especially when it kinda looks like your moms.